Far from mass tourism, this tour brings us into a fascinating world. The endless steppes of the Kalahari, the bizarre and towering mountain formations, and thunderous rivers bring a promise of an enjoyable ride. On this tour we will see exotic plants and animals, and experience many magical moments of nature.

We get on our bikes and start our tour over the Bainskloof Pass to Citrusdal. Driving along, we will see blossoming scenery and the beautiful Olifants river. We continue on until we reach our first hotel, "The Bath", where we can rest and enjoy bathing in their hot volcanic spring.

Over the coming days we will go through the wild and romantic scenery of the Cedar mountains, through the sparse route to the valley of the Orange river where lots of diamonds have been found. Furrowed dunes bring us into the Kalahari Gemsbok Park (Kgalagadi Transfrontier Park), home of the Kalahari lion and many other wild animals. The scenery seems as if out of a fairytale: stones, gravel, and a lot of red sand. When the sun disappears behind the dunes of the Kalahari, you can see on the horizon the silhouettes of the great gnu and herds of antelope . The next morning we will ride to the booming Augrabies Falls and then along a spectacular route over Kakamas and Pofadder to Klein Pella, to the biggest date plantation south of the Sahara.

Namibia is calling! Over the border we go to Fish River Canyon, which loops through the craggy Koubis mountain range. We follow the road southwards, along some of the most breathtaking scenery anywhere. Through small roads to the N7 we will travel through the atmospheric fishing village of Lambert's Bay back to Kapstadt, where at Bloubergstrand we will end this tour.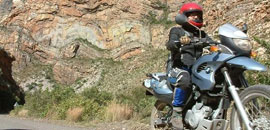 Tour Plan
1. Day From Kapstadt on the N1 to Citrusdal - Ceres - "The Bath".
2. Day Calvinia - Cedarberge in the direction Clanwilliam - Pakhuis - and Botterklof-Pass - "The Hantam Huis".
3. Day Keimos - Upington, Overnight in the Island View Guesthouse.
4. - 5. Day Kalahari Gemsbok Park (Kgalagadi Transfrontier Park).
6. - 7. Day Augrabies Falls National Park with waterfalls - Kakamas - Klein Pella.
8. - 9. Day Cross the Border to Namibia and go to Fish River Canyon.
10 - 11. Day Return trip to Springbok. Along the N7 to Lambert's Bay.
12. Day Elands Bay - Vredenburg - Kapstadt.

We provide
Overnight Stays and Breakfast, Lunch as a picnic, Entry Fees, Toll Fees, Tour guide, Accompaying transport, Baggage Transport, Maps and Information.

Not included
Flights, Coffee breaks, Beverages, Gas, Supper, Single Room Surcharge, Tips, Cancellation Insurance.

Hinweis
We reserve the right to change the route and where we will overnight.