Peru, the Andes, desert and jungle
Peru is one of my absolute favorites among our worldwide travel destinations.
In 1982 I was the first time here, have explored the whole country for many months and climbed many of the six thousand meter Andean peaks. In the meantime I returned many times to Peru, among other things, to participate in the Inca Rally and as responsible for the production of the motorcycle catalog BMWR1200GS. We do organized motorcycle tours in Peru, regularly since 1989, I lead all tours Peru itself so you can rely on our / my experience in this beautiful country.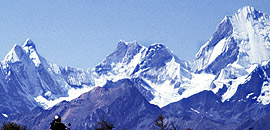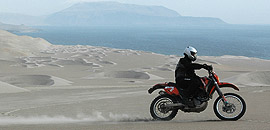 Our journey begins with a visit to the Unesco World Heritage listed Old Town of Lima and the Museo Oro. In the afternoon we take the bikes and discuss extensively the tour ahead.
The first day of riding takes us through the Peruvian coastal desert parallel to the famous Panamericana road due south up to Paracas. The Paracas peninsula is a known resort for countless species of seabirds. On the second day we follow the trails in the reserve up to Laguna Grande. Lunch there in a very simple fishing lodge with superb fresh fish directly from fishing.
In the afternoon Sahara Feeling arises on the road to Ica, we find our way through the dunes of Huacachina, which are up to one hundred meters.
After spending the night in very comfortable hotel in Ica, we make our way to Nazca, but not following the main road on the Transamericana, but across the desert to the coast. In Nazca, there is the possibility to visit the famous Nazca Lines from the air (surcharge). In Nazca begins one of the most brilliant motorcycle roads on earth, the 400km route across the Andes to Abancay. 400km endless curves, about 5000m hight level and virtually no traffic. On the fifth day of riding, we reach Cuzco, located in 3400m altitude, the world-famous ancient capital of the Incas. We deserve a restday day from the bike, but one day is not enough to visit all the highlights of Cuzco. We need another day to visit Machu Picchu, which is accessible only by train.
After so much culture, we desire to ride again and we cross the Andes on the adventurous route to Quillabamba. From 4500m of altitude over the spectacular road leads down to 1000m in the Amazon region. Our Perutrip ends with the flight back from Cuzco to Lima. Peru, we will come back!!