The quotation "Going South" gets a whole new meaning on this 16-day ultimate motorcycling experience. In stages this tour will challenge your steadiness and skill as we will be riding to the most southerly point reachable by vehicles in the world. "Tierra del Fuego" greets our arrival with lots of wind and a fascinatingly different landscape.

However we will begin our tour in the swanky winter sport location Bariloche, surrounded by Nahuel Huapi National Park. Driving past the hide out of the Sundance Kid, we continue on through Los Alerces National Park in the direction of Chile. On the famous Carreterra Austral, under unbelievable conditions that the cool rain forests of south Chile were struck down. Our BMW R 1150 GS brings us in the direction of Tierra del Fuego.

On Ruta 40 awaits those of you who are usually plagued by traffic jams at home: 700 Kilometers driving over gravel, two gas stations, and the whistling of the wind. 50 meters high and 13 km long is the glacier Perito Moreno over which the Condor glides in the morning air while traveling in elegant circles. Fortunately he knows that tough motorbike riders are not tasty.

Hilly steppes, emerald green seas, and hissing waterfalls that gush into the glacier and in the background vertical rock towers and frosted mountain tops - that is Paine National Park which we will reach the next day.

To cross the Magellan Strait we will swap our Motorbikes for a ferry. From far away we see the typical trees, their branches grown solely on the downwind side. After two days we arrive at last in Tierra del Fuego at "The End of the World". A curious sign grabs our attention: The end of Street Nr.3.

When we get on the plane in Ushuaia, it will be hard to leave. We will be leaving many things behind that we have become fond of-and not only our motorbikes. A challenging, wondrous Motorbike trip with unforgettable impressions. The 3000 km was not easy. To be honest, without the challenges it would not have been so beautiful.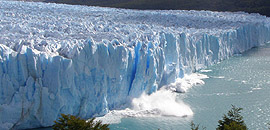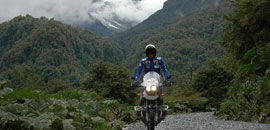 Tour Plan
1. Day Meeting Point Bariloche, Receive Motorbikes
2. Day Bariloche - El Bolson
3. Day El Bolson - Esquel
4. Day Esquel - La Junta
5. Day La Junta - Coihaique
6. Day Coihaique - Perito Moreno
7. Day Perito Moreno - Tres Lagos
8. Day Tres Lagos - El Calafate
9. Day Day of Rest on Perito Moreno Gletscher
10. Day El Calafate - Torres del Paine
11. Day RastDay in Torres del Paine
12. Day Torres del Paine - Punta Arenas
13. Day Punta Arenas - Rio Grande
14. Day Rio Grande - Ushuaia
15. Day Return filght Home

We provide
Overnight in a double room, Half-board, Transfers, Baggage Transport in accompanying vehicle, Tour guide, Tour momento, Maps and Information.

Not included
Flights, Coffee breaks, Beverages, Gas, Cancellation Insurance.