That bikers do not believe in half measures is well known. For those of you who are addicted to curves and slopes, there is only one way to travel in the Pyrenees: through them! Imagine traveling 1500 km from the Mediterranean to the Atlantic. The Tour begins in Badeort Rosas, directly on the Mediterranean not far from the French border. We will be traveling along the Spanish-French border. Say goodbye to tourist traps, and get ready for a week of adventure in the Pyrenees. Until we reach Andorra we will be riding uphill through diverse alpine-like scenery. On these lonely streets and mountain slopes there is virtually no traffic! At 2500 meters of elevation we will come to the Pena Montanesa, where we will stop and enjoy the spectacular view.

Crossing the Sierra de Loarre we will travel by the cliffs of Riglos which are occupied by birds and their eggs. In Sos del Rey we will spend some time walking through before we follow the Pilgrim's Trail from Camino de Santiago to the reservoir Embalse de Yesa.

From here begins the Basquian Navarra. Grapes, beech trees, dust and hot motors is what you see. The streets are in an excellent condition thanks to money from the EU and are very curvy. A more perfect area for driving your motorbike in Europe is hard to find. The last half-day in this stage will bring us to the Atlantic, where we will relax in a first class hotel. Whoever can remember the color of the Mediterranean can now compare it to the Atlantic!

We want to offer this tour for riders of all skill levels. As a result there are three different levels of difficulty. It ranges from a simple tour over paved streets, to challenging variations with more gravel than pavement. This tour can be traveled from east to west; as well as the opposite direction, from the Atlantic to the Mediterranean.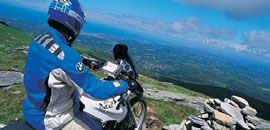 Tour Plan
1. Day Meet in Barcelona, stroll through city, Transfer to Rosas, Receive Motorbikes.
2. Day Drive along the Mediterranen to Cadaques, to Dalís Summer Residence. Afterwards we drive along the French border into the vulcanic province Garrotxa and to Mieres.
3. Day Mieres to Andorra, a highlight of the tour, on and off the streets and slopes.
4. Day Over the white-water rafting centre Llavorsi and the border town Pont de Suert to Benasque in Aragon. here the highest mountains of the Pyrenees are near enough to touch.
5. Day From Cerler / Benasque uphill 2.000 m, to see some snow. After going around the edge of the Peña Montañesa into Val de Anisclo we go to Torla.
6. Day We go along the Rio Gallego to the West. Crossing the Sierra de Loarre and Sierra Domingo until we reach Sos del Rey.
7. Day From the reservoir Embalse de Yesa to Navarra. We will do an excursion to Virgen de la Peña and then on to Elizondo.
8. Day From the Atlantic through the 1.200 m high middle mountains of Sierra de Bidesoa, afterwards we do our final stage of the tour to St. Juan de Luz.
9. Day Return to Barcelona by bus, return voyage.

We provide
Overnight in a double room in hotels, guest houses and pensions, Return to starting point of tour by bus, Half-Board, Transfers, Luggage transport in accompanying vehicle, Guided stroll through Barcelona, Tour organization , Tour momento, Return transport of motorbikes to place of departure, Road maps and area maps, We can arrange a tour guide for you, please contact us about this.
A return flight from San Sebastian to Barcelona is optional but can be booked for you by us.

Not included
Flights, Lunch, Coffee breaks, Beverages, Gas, Cancellation Insurance.