Central Sahara
Dunes at the best
DIFFICULTY::
Hard
We have 25 years experience of in the desert, jungle, on high peaks, and participation in almost all desert rallies. More than 50 guided Sahara Enduro tours with very satisfied participants. We offer the best and most beautiful routes, with plenty of exotic terrain and sand dunes.

Asphalt is kept to a minimum, and there is no planned road route with this one-of-a-kind Enduro Adventure. GPS equipment is used for the entire trip. It can be done independently without a chase vehicle, however, our well-equipped accompanying truck, suitable for the dunes, is always there with you. There is room for 6 passengers who want to come along. All tours are also accompanied by either a doctor or an Emergency Medical Technician.

As a matter of principle, flights and boat passage can be arranged if you wish it, with motorcycle transport from Munich to the start of the desert and back. Enduro - Desert - GPS - Navigation Seminar included.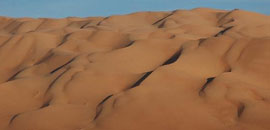 Tour Plan
1. Day Flight from Germany to Djerba, drive to the Libyan border, take care of customs formalities, overnight in camp. Circa. 150km
2. Day Drive in a car with a hanger or by Motorbike to Darj. Circa. 400km
3. - 6. Day We drive along the beautiful dune route from Darj to Al Awanyat. Circa. 700km
7. - 9. Day Excursion through the Akakus mountains, a highlight of the tour. Bizarre rock formations, bold rolling dunes, the oldest rock paintings and engravings in the world.Our guide knows and will show us many secrets. These three days are worth the trip!. Circa. 300km
10. - 11. Day Through Idhan Murzuk to Tesawa. Here we will meet no one.
12. - 13. Day We will visit the famous Mandara sea. A perfect place for bathing amongst the dunes. Dune skiing, paragliding and other fun things are on the agenda for today.
14. Day Return trip to Djerba.
15. Day Spare day
Extended Week (on request)
16. Day We drive through the extreme Dunes of Idhan Awbari from the Mandara Seen to Idri. The technicalities of driving, navigating and the landscape. It is hard to top this.
17. - 19. Day We drive cross country to Ghadames. About halfway, we cross difficult dunes in Idhan Awbari. Spectacularly beautiful landscape. Circa. 650km. 3x Camping
20. Day We visit the famous old city of Ghadames. Overnight in a new and comfortable hotel.
21. Day We drive back confortably on paved roads in a car to the coast. Circa. 600km. Along the way, we visit the fantastic Roman ruins of Sabrata. Overnight in a new hostel.
22. Day Arrival in Djerba, Return flight

We provide
Flight Germany - Djerba - Germany, Motorbike transport from Munich to Darj and back, Taxi ride at the border for those doing the 2-Week tour, Handling customs and border formalities, Tourführung through Christoph del Bondio, Baggage transport in accompanying vehicle, all meals for the Off-Road stages, Camping, Medicial and mechanical emergency service, doctor or emergency medical technician, Maps and GPS-Points for the entire tour.

Not included
Beverages in Restaurants and Hotels, no compulsory exchange, Visa, Agency und Police fees, bribe-money. Please factor in additional costs of 400, - € .

Hinweis
Circa. 2200 kilometer, 50 km asphalt.
The price for the 2 and 3 weeks tour are the same, except the two week tour the return trip in a Taxi is included.
VEHICLES FOR THIS ROUTE
ONLINE TRAVEL BOOKING
DOWNLOAD PDF